Stewardship
What is your spiritual gift? Are you being called to use your unique gift or talent? Prayerfully consider the Stewardship programs at St. Peter. If you are interested in any of our programs, please place a completed pledge card in the collection basket or contact a member of the Parish Council (listed in the weekly bulletin).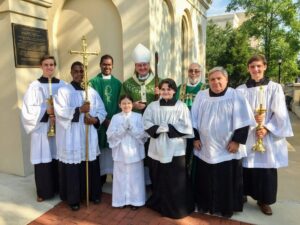 FAITH
Altar Servers – Youth and adults who assist the priests with celebration of the Eucharist. They also assist with funeral services.
Religious Education – It is vital that the children of our Church learn the truth and joy of our Catholic Faith. We cannot pass on this truth without the help of faithful adults. We are looking for volunteers to teach and co-teach our various religious education classes.
Bereavement Ministry – Provides support, comfort, and friendship to parish members who experience a death in the family. Volunteers make arrangements according to the needs of the families which include providing food for a post-funeral reception, providing meals for the family during the bereavement period as special Masses. They provide additional outreach with cards, calls, or visits.
Eucharistic Ministers Ministry – Catholic men and women to serve the Body and Blood of Christ at Mass and to the sick.
Lectors – Provide reading of Old Testament scriptures, Psalms, and epistles during Mass.
Prayer Network – Parishioners may request special prayers through prayer boxes located in the church. Members of the "network" pray daily, wherever they desire, for those who have special needs. When required a telephone network is activated for more intense prayer during critical situations. Being a member provides you an opportunity to support fellow parishioners in their time of need.
Ushers – Assist with collection offerings, and the presentation of gifts at Mass
Wedding Coordinators – Assist with preparation; organize and direct all the details outside the body of the ceremony.
COMMUNITY
Hospitality Committee – This committee embodies the welcoming spirit of our parish.They assist in preparation of meals for various social activities including the annual St. Patrick's Day celebration. They coordinate various events and receptions throughout the year. Their efforts are essential in bringing our parish community together.
PARISH COUNCIL
Parish Council – Elected by the parish for three-year terms; meets each month to foster pastoral activity in the parish. This council assists the pastor in establishing goals based on the needs and wants of the parish and monitors the progress of the parish in meeting those goals. It also acts as a vehicle of communication by which the people of the parish may obtain an understanding of parish operations and have a voice in the policies.